An old video of supporters going berserk and rioting at a stadium in Hamburg, Germany, has been falsely shared as a fire accident at the FIFA World Cup 2022 in Qatar.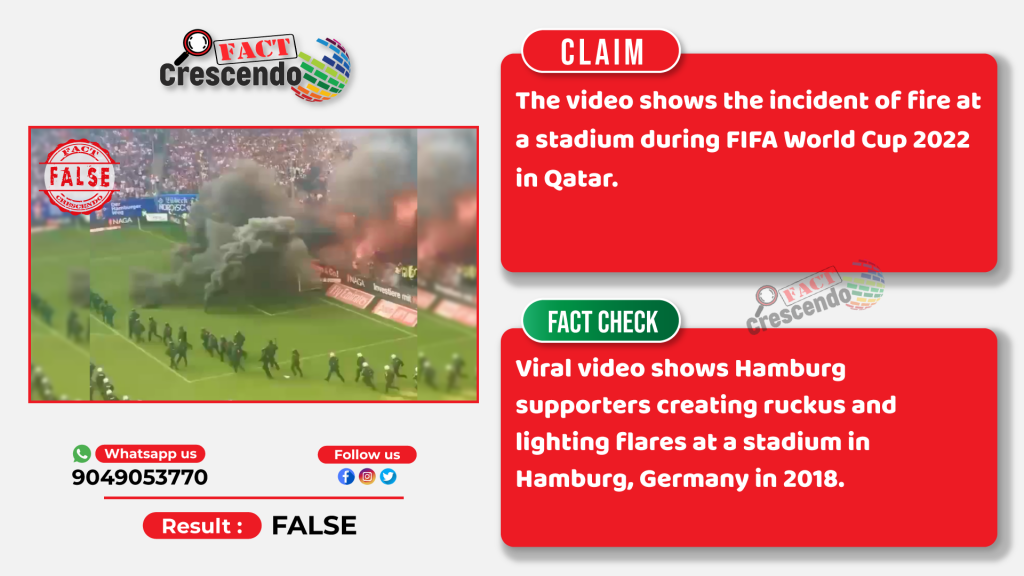 Since the beginning of the FIFA Football World Cup 2022 in Qatar, social media has been flooded with pictures and videos from the tournament. Meanwhile, a video of the fire in the stadium was widely circulating on social media. The user claims that the video shows a fire accident at the stadium of the FIFA World Cup 2022 in Qatar.
The caption of the viral post reads, "Horrible fire at Qatar World Cup stadium."
Fact Check-
We started our investigation with the help of a keyword search on Google, whose results led us to a news report published by the Express UK. According to a report uploaded on 12 May 2018, Hamburg fans created chaos following their side's relegation from the Bundesliga, Germany's primary football tournament. Supporters of Hamburg SV stormed the ground and lit torches to stop the match against Borussia Monchengladbach. Fans lit the flames at the football stadium Volksparkstadion in Hamburg, Germany.
Further, we found a report related to the incident on an official YouTube channel called DW Kick Off. According to a video uploaded on May 14, 2018, Hamburg fans protested angrily by lighting torches at this stadium in Germany.
The video of this incident which took place on 12 May 2018 was uploaded on a YouTube channel named 4S-TV. According to the video, at the end of the game, 100–200 Hamburg fans rioted in the Volkspark stadium by lighting torches.
https://www.youtube.com/watch?v=YVzNpl2i5sk
From the above facts, we can be clear that the viral video is not the fire in the ongoing FIFA World Cup, but the video of Hamburg fans protesting in a stadium in Germany in 2018.
Was there a fire in the stadium in Qatar?
Qatari authorities have confirmed that a fire broke out at an under-construction building near the Lusail Stadium where a World Cup match was due to take place. The fire started about 3.5 kilometers from the Lusail Stadium. No one was reported injured.
Conclusion-
Fact Crescendo has found the claim made in the viral video to be False. The video is of a massive protest by Hamburg fans at a stadium in Germany in 2018. This video has nothing to do with the ongoing FIFA World Cup in Qatar.

Title:2018 video of football fans rioting in Germany viral as FIFA World Cup fire in Qatar
Fact Check By: Drabanti Ghosh 
Result: False